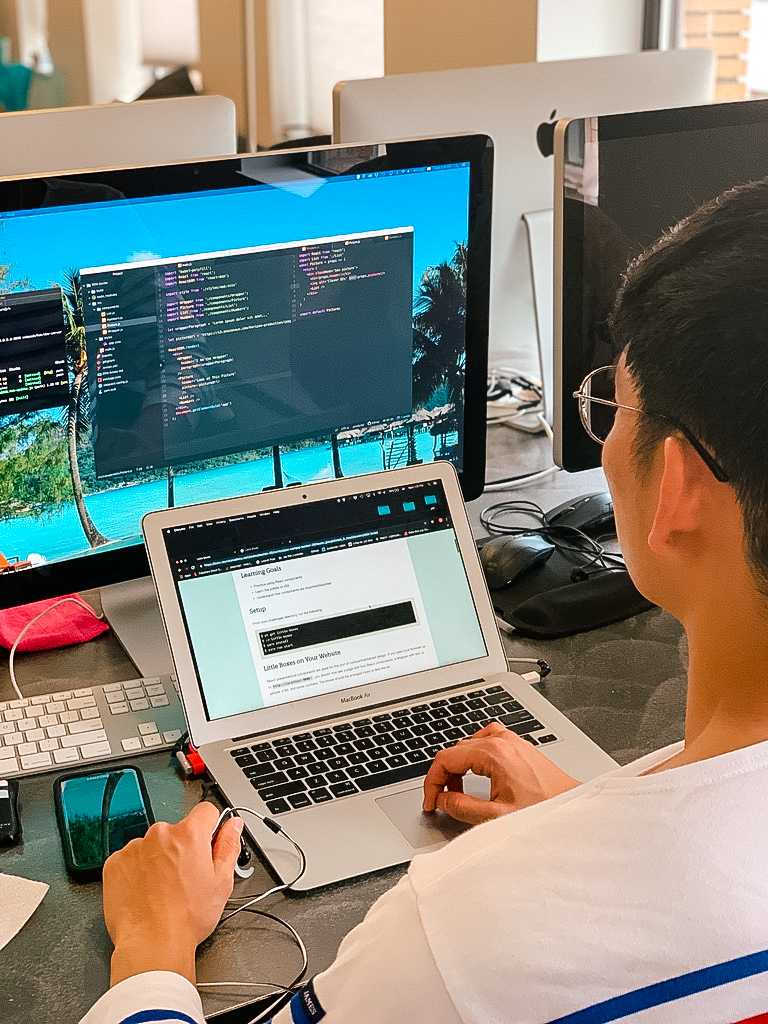 Launch your career.
Then take it to the next level.
Upcoming course schedule
Boston #44
Feb 02, 2024
Jan 01, 2024
Jan 22, 2024
Mar 18, 2024
May 24, 2024
Boston #45
May 02, 2024
Apr 01, 2024
Apr 22, 2024
Jun 17, 2024
Aug 23, 2024
Everything you need to get
hire-ready in just 18 weeks.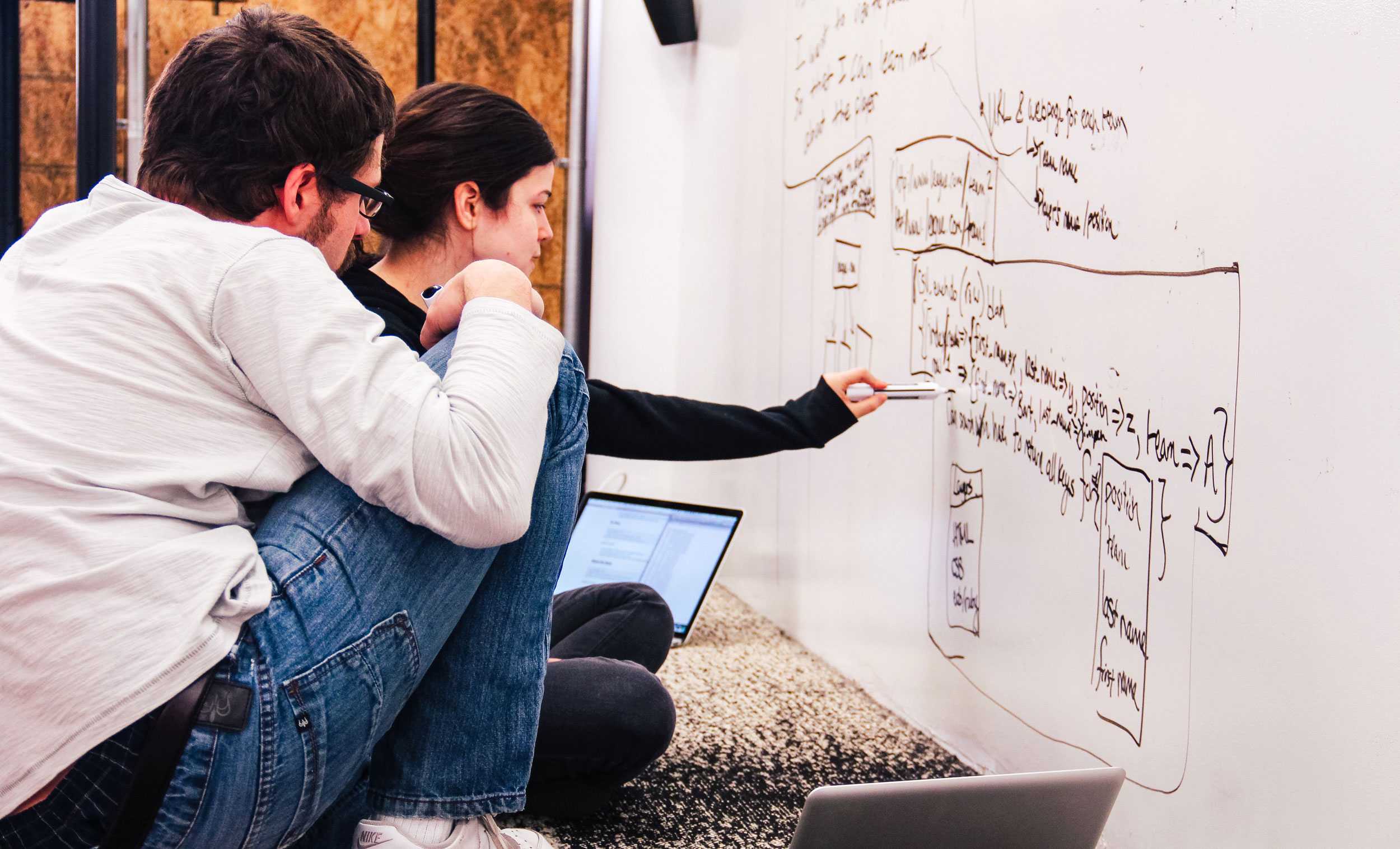 Learn the right things, in the right order
You wouldn't begin building a house by constructing the roof. Chronologically optimized learning is no different. Starting with time-tested fundamentals adds rocket fuel to your ultimate learning trajectory.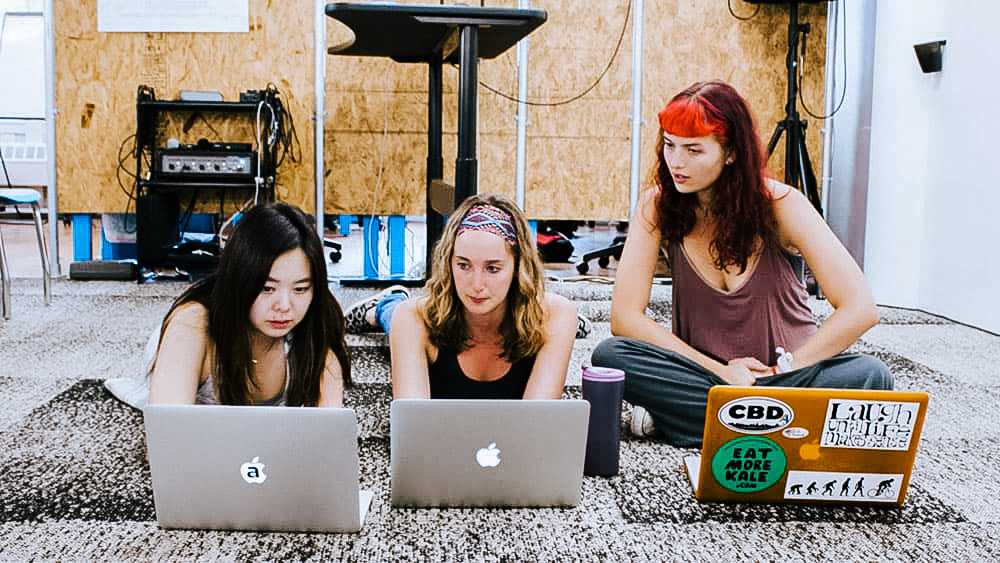 Master the technical skills hiring managers want to see
Hiring managers inform our curriculum enhancements every 90 days. Before each cohort, we update course content to ensure grads enter job interviews with the skills hiring companies want.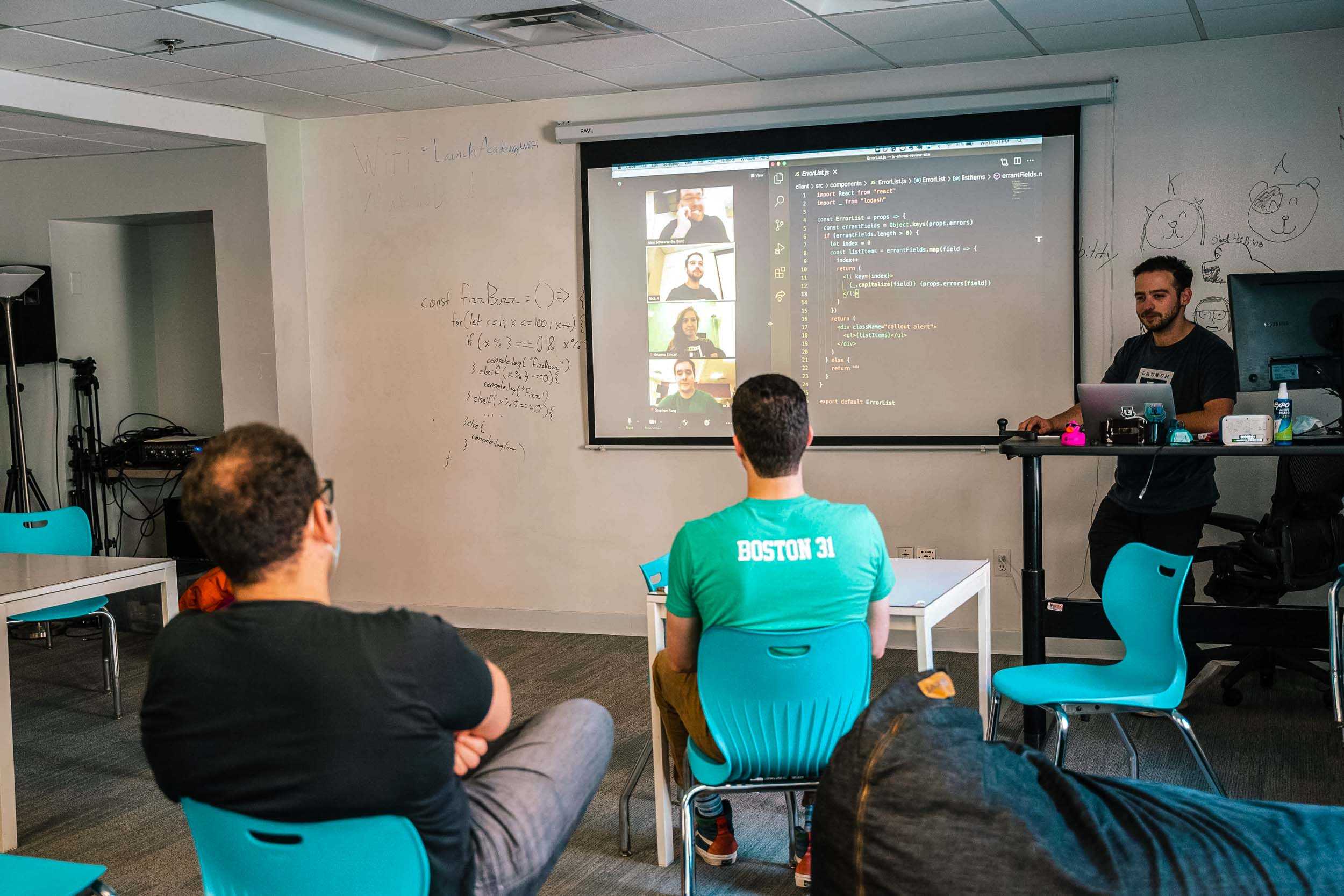 Work one-on-one with your peers and instructors
Learning collaboratively in small groups with low student-to-teacher ratios enables students to get unstuck quickly, establish momentum, and accelerate their learning.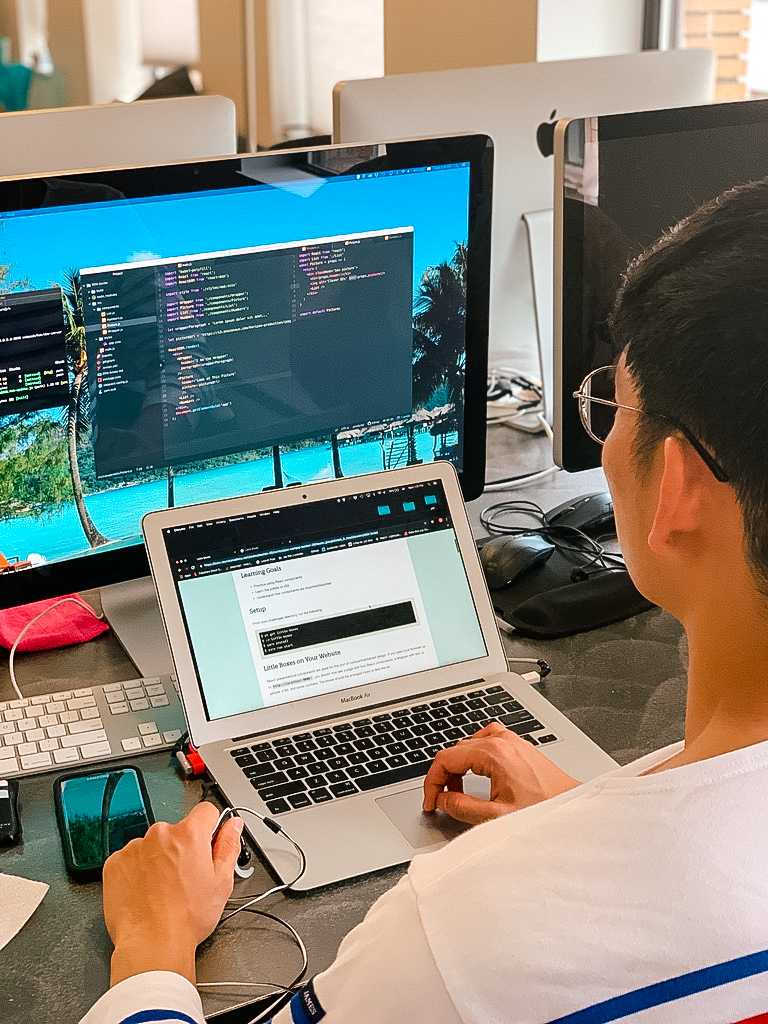 Practice intensive, hands-on coding with working apps
Understanding how technology works requires a learn-by-building approach. Through daily projects, a collaborative team project, and your personal capstone app, you'll build skills sought by hiring managers.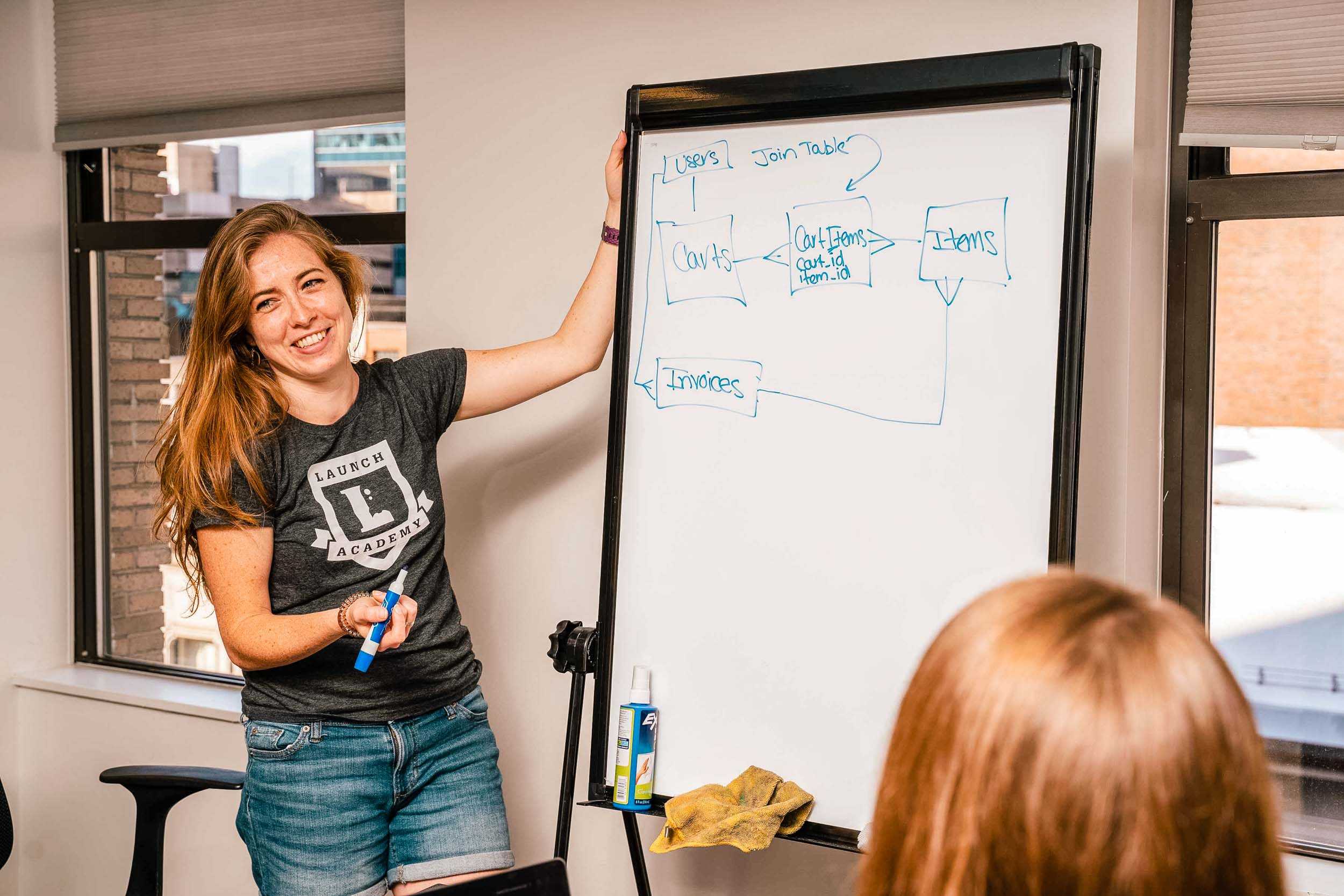 Nail the job interview and present with confidence
Obtain one-on-one career coaching focusing on Github, LinkedIn, and your resume. Practice real-world technical interview formats so that you're ready to impress hiring managers.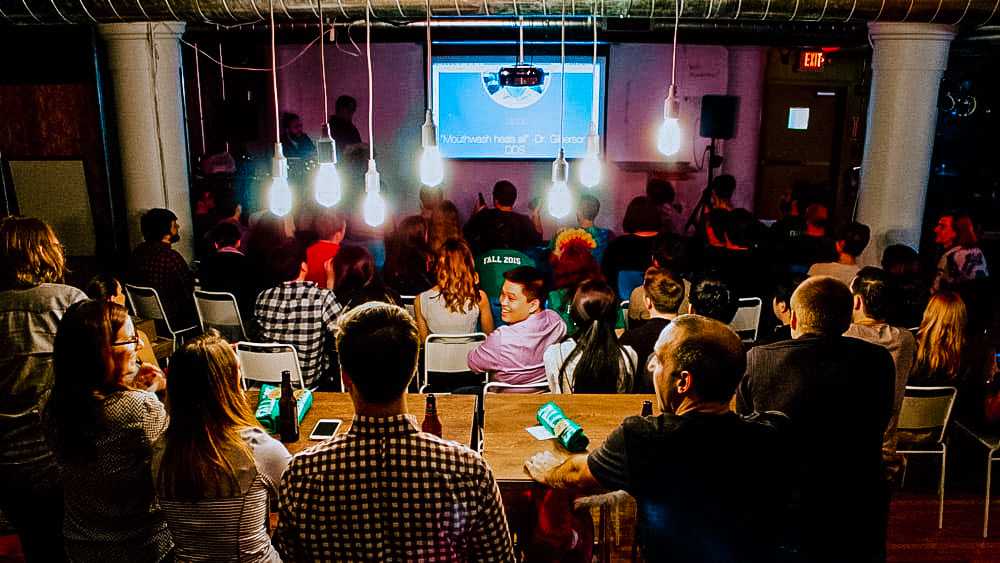 Open doors with a direct connection to employers
Plug into our Boston network of over 400 companies who have hired graduates onto their software engineering teams since 2013. Connect with our alumni community and establish your personal network.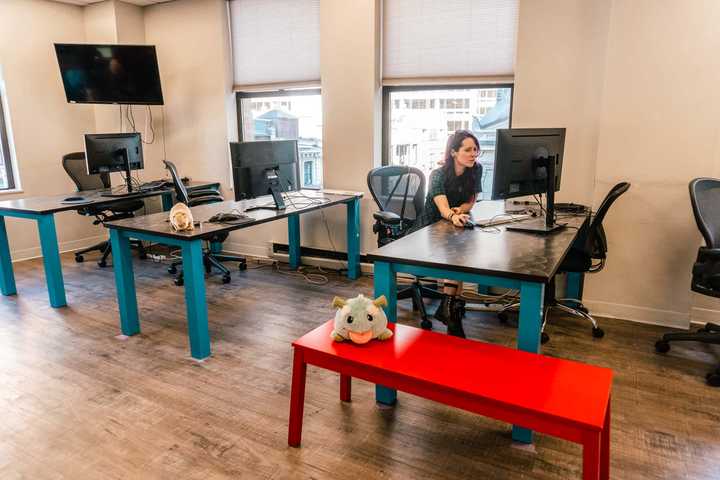 Module 0
Course Prep & Pre-work
Online | Part-Time | 3 Weeks
Get ready for your new career and develop advanced skills in a hands-on environment
Confirm your interest in software engineering prior to paying tuition.
Validate your love for coding prior to changing careers.
Learn the basics to reduce imposter syndrome ahead of the program.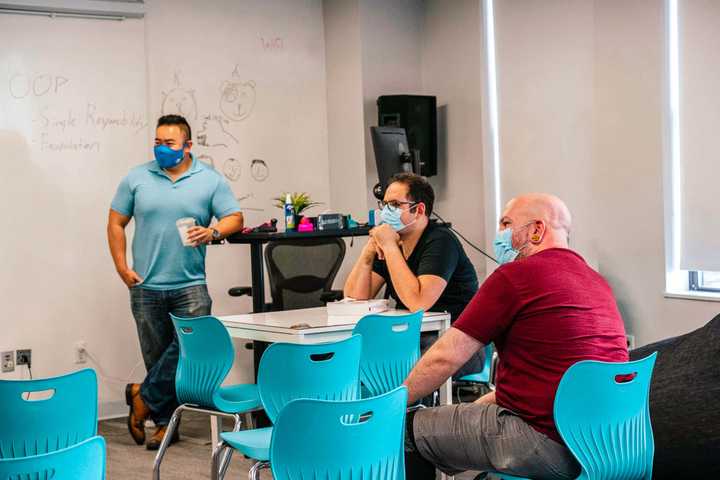 Module 1
Coding Fundamentals
Online | Part-Time | 8 Weeks
Get ready for your new career and develop advanced-level skills in a hands-on environment.
Begin working collaboratively with fellow students while learning the basics.
Get unstuck quickly with the help of our software engineering instructors.
Option to pause your cohort and defer to the next one if it's moving too quickly.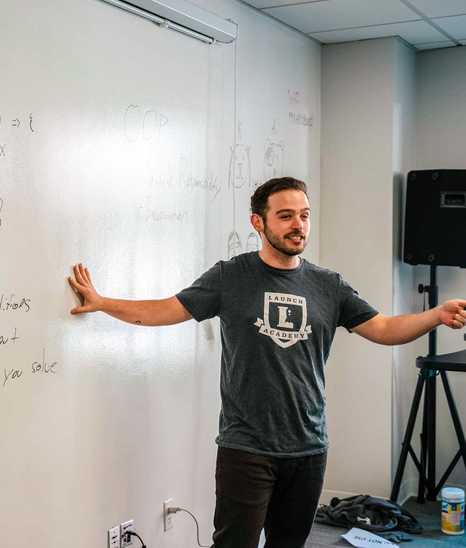 Module 2
Software Engineering Immersive
On Campus | Full-Time | 10 Weeks
Learn the skills that today's engineering teams need.
On-campus learning mirroring that of a software engineering apprenticeship.
Build your portfolio with independent and collaborative projects.
Dedicated career services curriculum to prepare you for job interviews.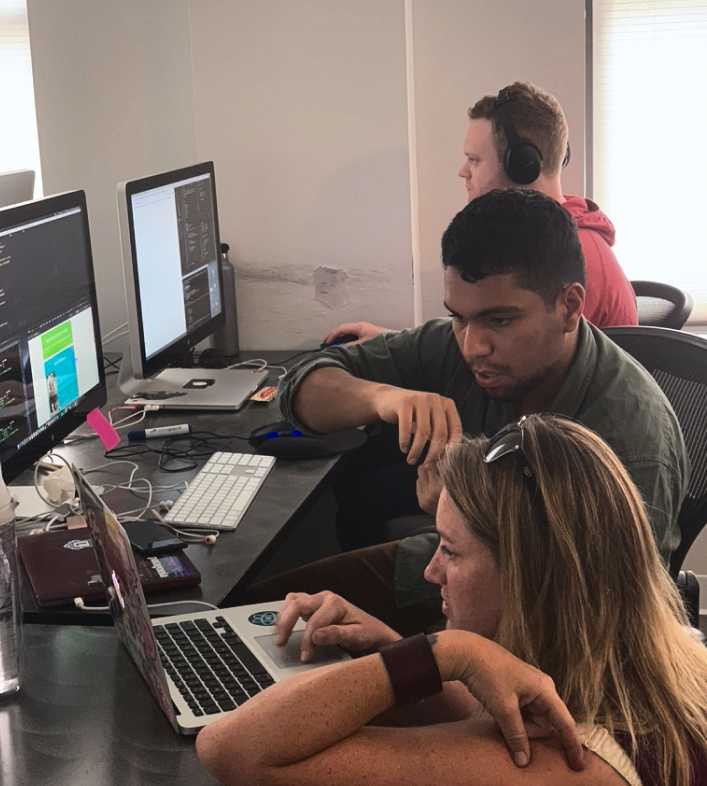 Module 3
Career Advancement and Post-grad Support
Online and On Campus as Needed | Part-Time | 8 Weeks
After all of the preparation and study, you're ready to land your first job as a software developer.
Present your portfolio projects to interested employers seeking to hire graduates.
Develop a job search strategy with our career services team - from application to interview, to offer and negotiation.
'Lifetime Access to Alumni Support' provides you with quarterly curriculum updates so you can continue learning on the job and position yourself for promotions. Come back to Launch Academy as a free workshare to build side projects with alumni and expand your local professional network.
Build production-ready portfolio apps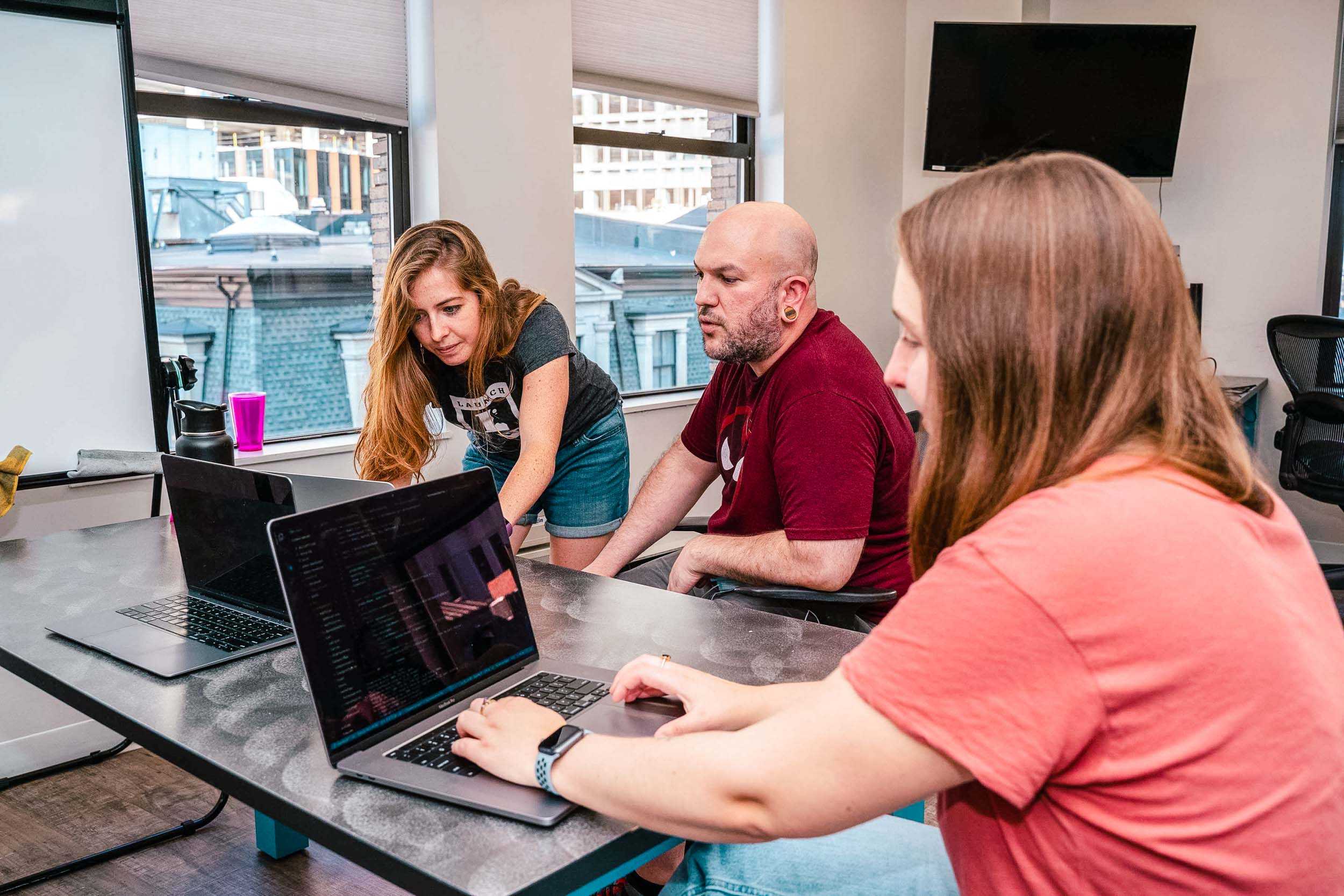 Capstone Project
Create your own app which you will present to companies at the conclusion of the program. Practice your pitch to land your new software engineering job after graduation!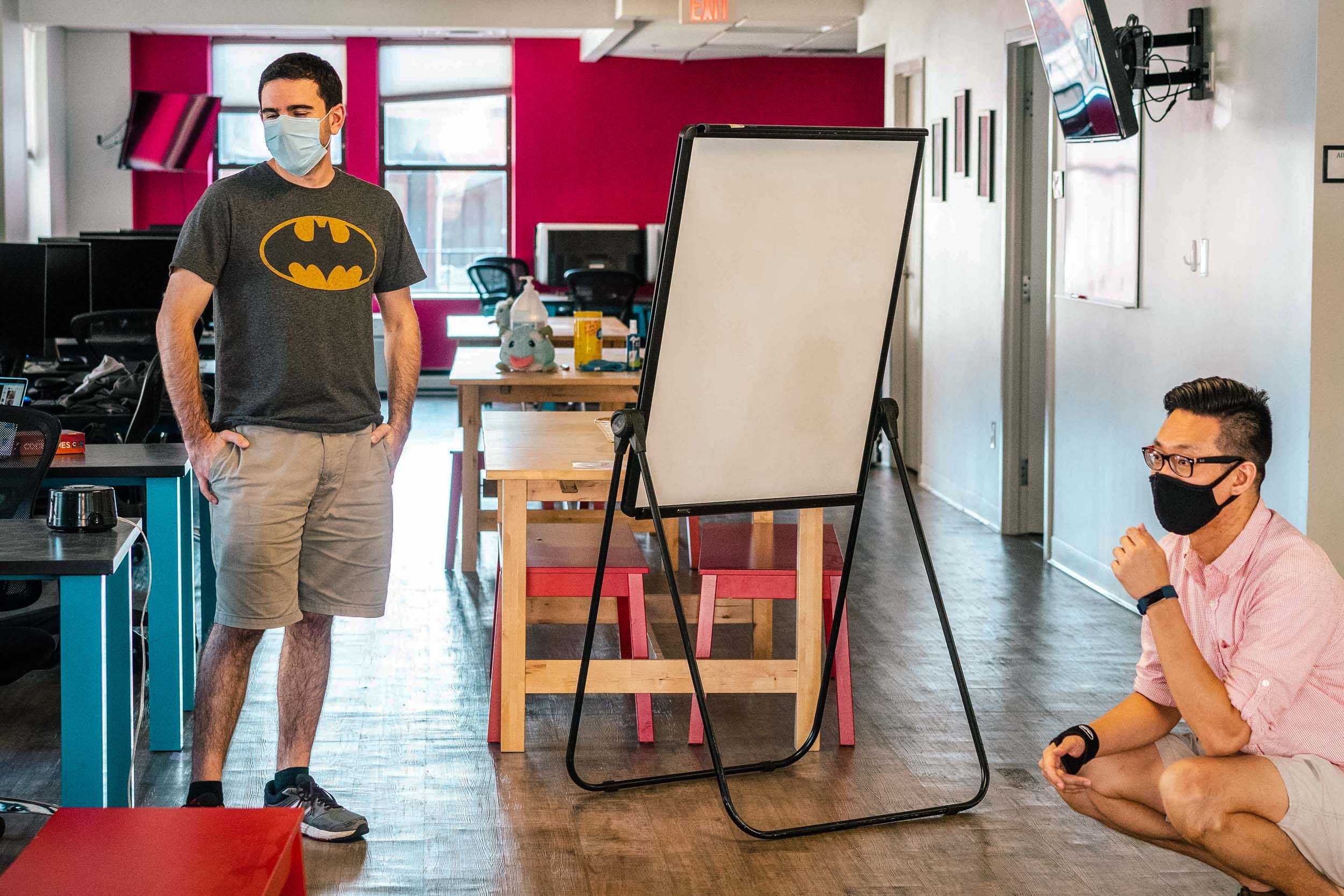 Team Project
Build a fully functioning app from the ground up within a team environment. Practice agile methodologies & gain collaborative work experience to reference in job interviews.
Learn to code the human way: Meet your team of full-time software engineers
Alex Schwartz
Director of Student Success
I'm here to make sure you are as successful as you can be at Launch. Fan of fantasy and sci-fi books, tea, JRPGs, board games, and playing music.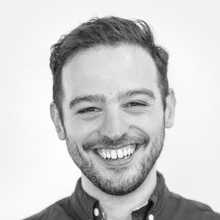 Nick Alberts
Boston Experience Manager
Your cruise director for the Boston On-Campus bootcamp experience. Usually doing improv around Boston, D&D for Launch alumni or staying up late adding unicorns to his slide deck.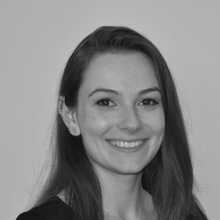 Kerrin Gillis
Experience Engineer
As an instructor I really enjoy mentoring students in the skills they need for the field of software engineering. It's amazing to see their progress as they grow! Outside of teaching I'll often play a variety of RPG and VR games, trying to find new hiking trails, or taking our cats for walks in the yard.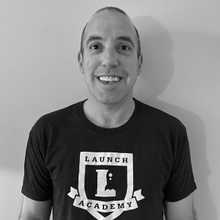 Evan Charles
Co-Founder
Helping people change careers since 2013! Hobbies include learning new things, spending time with my wife and two daughters and sharing laughs with friends.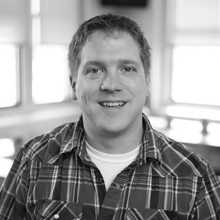 Dan Pickett
Co-Founder
Developer developer. When not mentoring or coding, he's usually playing with his three kids or two doggos. You might also catch him in a hockey rink or behind a drum kit.
Flexible Tuition Options
All accepted students enroll with a $1,000 refundable deposit to save their seat. You will have a one-time option to defer to a future cohort prior to week 8 should you want more time with the material. We offer $500 diversity scholarships for anyone who feels they have a background which is underrepresented in the software engineering field. Accepted students can earn an additional $250 scholarship upon successful completion of our free 3-week prep program.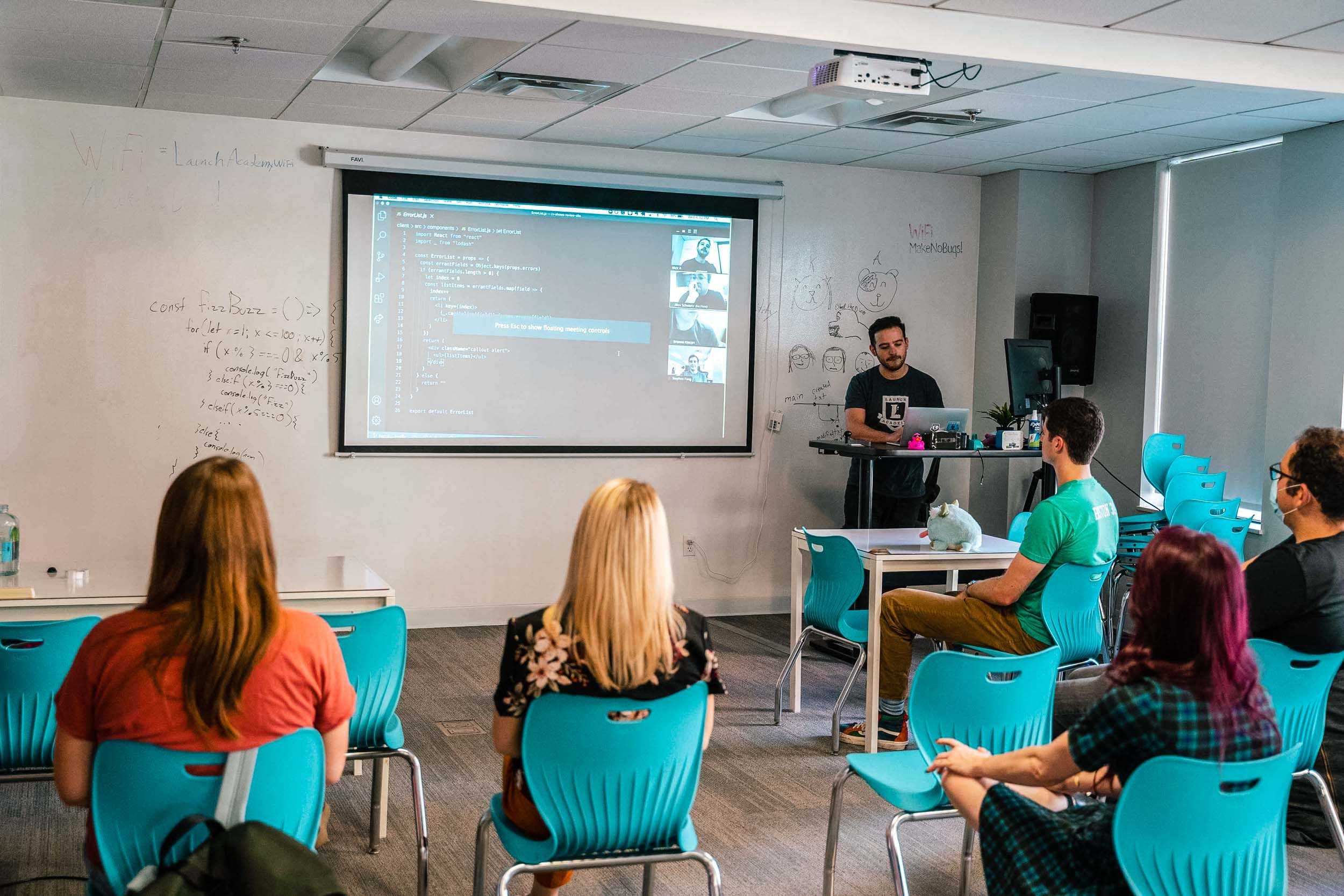 Pay upfront
Try before you buy. Pay your full tuition in week 2 of the program. Your deposit is fully refundable anytime prior to this date.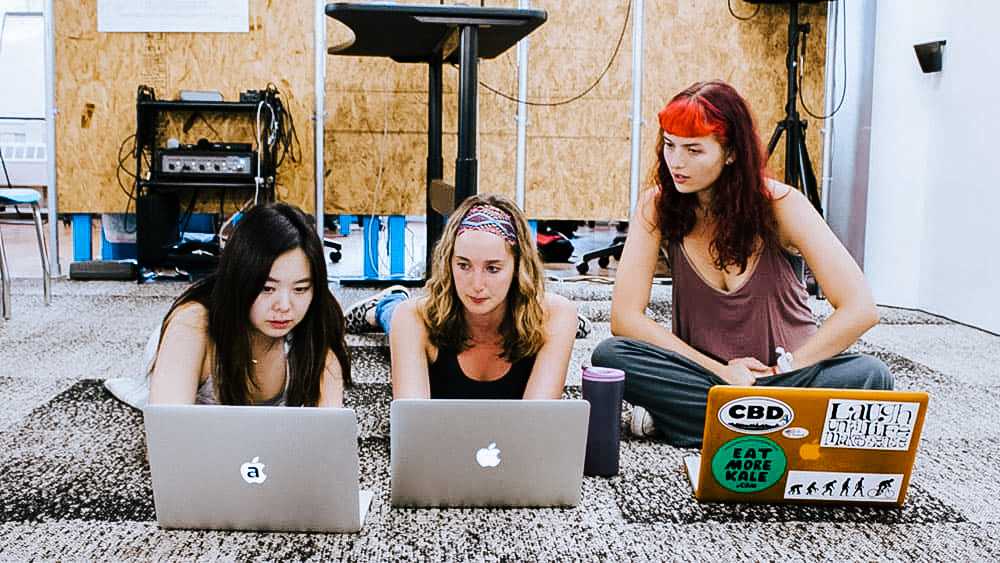 Pay after you graduate
Defer tuition until 3 months after graduation through our loan partner, Ascent. Calculate payments and learn more. Includes options for a cost of living stipend for as much as $6,000.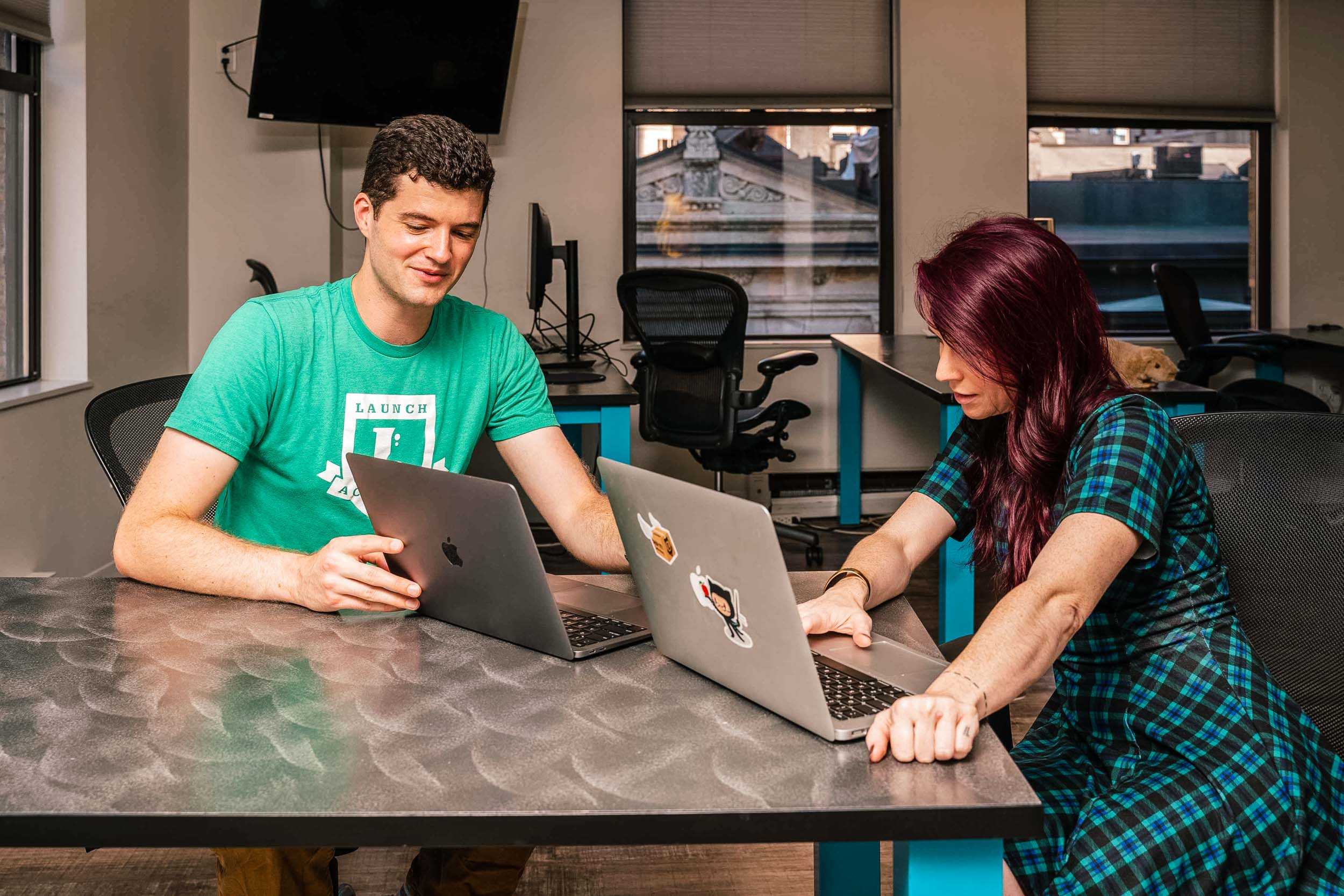 Massachusetts TOP program
Eligible students can extend unemployment benefits through graduation. Learn more.
Frequently Asked Questions
What is the tuition and are there any scholarships and/or financing options available?
Tuition for the 26-week program is $17,500.
We offer a $1,000 scholarship to anyone who is accepted into the program and successfully completes the optional free 3-week prep course prior to the start of the program. Participation in the prep course will help to ensure that you have validated your love for code. Additional scholarships include a $500 diversity scholarship for anyone who identifies with an underrepresented member of the software engineering community and a $500 scholarship to any United States veterans. These scholarships may be combined.
Approximately 20-30% of students finance their tuition through SkillsFund which offers deferred tuition payments three months after graduation and monthly tuition payments thereafter based on either a three or five year plan. They also offer up to $6,000 in addition to tuition financing for students to use for any cost of living or computer expenses during the program. You can learn more about whether SkillsFund is a good fit for you by visiting their website here.
We are an approved vendor of the State of Massachusetts' Unemployment Department's Training Opportunity Program which entitles enrolled students to extend their unemployment benefits through the duration of the program. You can learn more about this program and check if you are eligible for participation here.
What implications does COVID have on the program?
What are the student outcomes for the program?
Launch Academy is a longstanding member of the Council on Integrity in Results Reporting ("CIRR") which provides transparent standards, accounting for 100% of students, allowing straightforward outcomes comparisons with other skill schools who prioritize transparency of student outcomes.
CIRR requires us to report twice per year based on specific calculations for outcomes including placement rate, median annual base salary, graduate job titles and more on the basis of 90 days and 180 days after graduation. Our outcomes are audited annually by an unbiased third party as determined by CIRR. During the audit, all graduates are contacted to confirm reported data.
Launch Academy is not like college and not everyone graduates. The program is rigorous and unsustainable by design and thus not always a great fit for everyone. We believe this rigor sets our graduates apart and provides them with a strong starting point to a successful career in software engineering. Our exceptional placement rate proves out this theory.
We like to say that the term 'adult education' has the word 'adult' in it for a reason. There is no hand holding at Launch Academy. Rather, we expect students to meet us halfway and commit to be successful in the program and beyond as they pursue a career in software engineering. Successful students prepare themselves by employing discipline in their day-to-day lifestyle during Phase one of the program and beyond, ensuring that friends and family support protected learning time. While we have a rocket in our logo, learning to code is not rocket science. We may not subscribe to the popular mantra that everyone should learn to code, but we do believe that those who do choose to pursue a career in software engineering can be successful with the right amount of determination, discipline and grit. You can check out our CIRR statistics here.
What is the schedule and learning paradigm throughout the program's phases?
Launch Academy consists of three contiguous phases.
I) Phase One is 8-weeks virtual, flexible, part time learning requiring 20-25 hours per week. Students make one submission per week and can continue to work their full or part time jobs during this phase. Collaboration between students and the software engineering team occurs via Slack chat and live and/or recorded Zoom video calls.
II) Phase Two is 10-weeks, in-person, full time learning requiring 40-60 hours per week. We strongly discourage any professional commitments during this phase of the program. Students have the option of working on campus or virtually during this phase during COVID-19 protocol.
III) Phase Three, aka Post Grad Support, consists of 8-weeks or as long as it takes to secure a job. This is when we help you with the job search by scheduling interviews with companies, helping with outreach to open job listings, assisting with networking, preparing you for job interviews and assisting with negotiating your compensation package if requested.
Once you've obtained a job, you unlock Lifetime Access to Alumni Support. This provides you with free quarterly curriculum update access - we update the curriculum around 20% every 90 days based on hiring partner feedback as to what hiring managers are seeking in people they are hiring into open positions. You also have free access to the Campus after 2pm on weekdays to work with other alumni on side projects to learn new skills. We want to help you continue your learning long after graduation so that you can obtain promotions and continue to have the gift of loving what you do for work.
What level of career support is offered during and after the program?
Launch Academy exists in order to help people get jobs as software engineers. At the heart of that mission is our dedicated Career Services team.
Approximately 20% of the curriculum during Phase 2 of the program consists of professional training or career services content. We'll sit down with you at the beginning of the program to discuss your career objectives and align your digital assets towards those goals. We'll begin to craft and refine your Github profile, LinkedIn account, resume and cover letters to optimize each of these assets based on historical hiring pattern feedback. During Phase 2 we'll begin putting you through mock interviews which aim to mirror the format and energy that you will encounter when interviewing at companies following the program. We'll provide feedback after each mock interview and repeat the process so that following the program you'll walk into job interviews with the confidence required to land an offer.
During the Post Graduate Support phase, we'll help support and guide you through the job search. We'll assist with scheduling job interviews, networking, application processes and prepare you prior to interviews based on our knowledge of a certain company's job interview format. We're here to serve you as your personal technical recruiter and nothing makes us happier than alumni landing jobs!
Do we work on projects during the program?
Launch Academy employs a project based approach to learning where you learn by building and writing software on a daily basis. Our non-traditional approach favors a learn-by-doing approach to that of a more traditional lecture series. You'll submit daily projects during the first six weeks of Phase 2. Thereafter and prior to graduation, you'll build two larger projects in addition to these smaller challenge based daily projects.
Small Group Projects occur in Weeks 7 and 8 of Phase 2. You'll build a large fully functional app with three other team members. At this time, you will learn both technical and soft skills in a dynamic environment. While learning new technologies you will begin to review code and pull requests as well as work with agile methodologies including morning stand-up. Small group project weeks will arm you with real world experience which you can reference during job interview questions revolving around team oriented software development experience.
Breakable Toy projects, aka Capstone Projects, occur in Weeks 9 and 10 of Phase 2. This is when you will build your own large, fully functional app from the ground up. People come to Launch Academy with ideas on what they want to build and it's our responsibility to help you scope these ideas into a 2-week project you can present to companies following the program. Your project may cover a nagging problem you've been trying to solve for your personal or professional life or perhaps an app that friends or family have been wishing for. At this stage of the program, you have now acquired the necessary skills to bring these ideas to life! We can't wait to see the wonderful things you build.
What technologies do you teach and why?
Our approach to curriculum development is iterative. We only hold four cohorts per year and in between each cohort we take three weeks off from teaching. We call it the offseason. During this time, we meet with various companies and ask them what skills they are seeking in people they are looking to hire onto their software engineering teams in the coming months. Armed with this intel, we work as a team to rewrite approximately 20% of our curriculum each cohort so that we know students are graduating with in demand skills required to land the job during interviews following the program.
Core to our pedagogical philosophy is the Polyglot mentality which states that people who are proficient in two or more technologies can more easily learn additional technologies thereafter. This is important because following the program, many students work at companies whose stack differs from that of the one we teach. By attending Launch Academy, you are essentially learning how to learn to code. This offers you the ability to quickly learn new technologies at companies on the job. Software engineering is a lifelong learning process. We want to equip you to be successful long after you land your first job.
Launch Academy's Software Engineering program equips aspiring software developers with what they need to succeed as professionals in today's technology companies. While you'll learn in-demand technologies through this course,  the core objective of the program is to teach you the fundamentals and best practices of programming. This makes our graduates well positioned to adapt and grow with the fast-paced industry of web development.
To ensure our students learn the technology required by today's industry demands, our curriculum and this syllabus are constantly evolving and improving. These changes are informed by feedback from employers, current students, and our alumni. At Launch Academy, we believe that deliberate practice is the most effective way to learn software development.
That means the course is entirely structured around a learn-by-doing approach. As a result, you will graduate the program with a portfolio of projects, experiences, and code examples which will help to set you apart in your job search.
During the program you will learn programming foundations with javascript, web foundations with SQL, HTML, CSS and the DOM, advanced object oriented programming and dynamic web applications including test driven development, front-end development with JavaScript and ReactJS, databases and full stack web applications, agile methodologies including iterative development and daily standups, integration of third party API's, how to deploy a full-stack application built with ReactJS and NodeJS.
The Post Graduate Support phase offers additional learning opportunities from students including Redux, Ruby on Rails. You can learn more about the technical aspects of the program by downloading our syllabus here.
What are the prerequisites to successfully attend the program?
Launch Academy is a zero-to-sixty program with no prior coding experience required. That said, we do recommend people participate in the free 3-week preparatory course prior to attending the program to validate your long term interest in coding and begin to make the necessary adjustments to your weekly calendar to optimize yourself towards learning. For those who apply to the program and are accepted prior to the 3-week prep program, we'll provide you with free resources so that you can begin obtaining an overview of the fundamentals.
What are the common skills or qualities of successful students?
Successful students are committed to learning and have built discipline into their daily lives to ensure they have prioritized learning in order to set themselves up for success during the program. Common traits leading to success include a passion towards collaborative learning, an interest in hands-on learning, a willingness to think differently about how to best learn a new skill, fortitude to fight through the struggle of learning and a trust in those who have learned in a similar paradigm so that you can stand on the shoulders of giants as you achieve your goal of loving what you do for work.
What are the key differentiators between Launch Academy and other Skill Schools?
We are naturally biased on this one so we always recommend prospective students reach out to graduates of any program you are considering via LinkedIn or other mediums. Ask them about their experiences to gauge and gain confidence in the program you are considering. That being said, here are the structural differences between Launch Academy and other programs in the Metro Boston region:
Full time software engineering instructors resulting in continuity, commitment to teaching and empathizing with the needs of students on a daily basis through relationship building.

Iterative nature of our curriculum. We update our curriculum up to 20% per quarter (per cohort) based on feedback from our hiring partners around what are the specific skills they are seeking in people they are going to hire in the next hiring cycle in 90 days. The result is graduates with in demand skills at the time of job interviews.

Our program is longer than most totaling 26-weeks when considering the 8-week part time phase plus the 10-week full time phase and the 8-week post graduate support phase (or as long as it takes to land a job).

Lifetime relationship with alumni via 'Lifetime Alumni Support' . Grants students free access to (1) quarterly curriculum updates to upskill on the job long after graduation and (2) free access to the campus after 2pm on weekdays to work on side projects and further their learning.

Commitment to transparency of student outcomes. We are a CIRR member and we provide readily available student outcomes on our website through our student disclosures section

Boutique nature of the program. By focusing on the skills of software engineering in one city with a strong focus on quality we are able to provide a high quality education experience. We offer easy access to the founding team with small cohort sizes ranging from 25-30 during the on-campus phase of the program. This results in a highly iterative learning environment with low student to teacher ratios.

Rigor. The program is very intense and thus not always a great fit for everyone. We believe this rigor sets our graduates apart and provides them with a strong starting point to a successful career in software engineering.
Do I need to own a computer to attend Launch Academy?
Yes, you need a computer to participate in our program. A Mac laptop is strongly recommended. While you will be able to use a Windows PC for this program, the majority of software jobs that graduates enter into after graduation require working on a Mac. To ensure you are set up for success in the long run, it's beneficial to learn to code on the type of dev environment and machine that you're most likely to work on in your future on the job. Which model you chose (Macbook vs Macbook Air vs Macbook Pro) is really up to you and your budget. A large portion of the Launch engineering team and students use a Macbook Air, so don't assume that you need to buy one of the more expensive options. From a technical perspective, as long as it can run the latest version of OSX, you'll be fine. The 8GB version will serve your needs for the program.
What kind of certificate do I get from Launch Academy?
Graduates receive a Letter of Completion with the ability to add the Launch Academy logo of experience to your LinkedIn profile for prospective employers to validate your successful graduation from the program.
How do I know I'm learning? What happens if I fall behind?
Our phased structure is built for beginners and aims to ensure everyone moves onto Phase two with a baseline of knowledge prior to us accelerating the learning curve. Students will receive regular feedback from our software engineering team including weekly 'systems check' results with support to strengthen areas of opportunity and provide non core material to foster your strengths. Students have the opportunity to defer once to a future cohort prior to week 7 of Phase one of the cohort if they feel like they would benefit from additional time prior to starting Phase two. Doing so provides you with continued access to the curriculum and allows you to retake the first seven weeks of Phase one.
What are the cohort sizes?
While we don't set specific cohort size limits, we do like to keep size during the on campus phase to less than 30 students. Like all rules, there are exceptions. However, one exception we will never make is providing low student to teacher ratios. This is one of the pillars to our high level of education at Launch Academy. People learn better when they have support - ideally in person - and in small groups. Deviating from that philosophy is a nonstarter for us.
Ready to design a better future?